Who is the guy with the afro?? Hey it's me, Mango Jerry?
...yes, he moves around in his hunting grounds. At times you will see him at the waterfall & then he disappears for a while. He always takes time to take a photo with you. Start the search...
The Mango Jerry Story...
...as an insider, I not only want to show you the highlights of my homeland. I would especially like to point out the hidden beauty, the unique landscape, special moments and holiday tips.
In the winter, I have decided to focus on free-riding and skiing and in the summer fly fishing has become my greatest passion & a purpose for life. I currently own 7 beautiful fly fishing areas in the Gastein valley, 5 of them in the heart of the National park High Tauern. 
But now to me: my name is Mango Jerry and you may ask yourself now, how can I give you insider tips from our country, as I look nothing  like a local.
Well, like all of us, I have under gone shifts & changes in my life. Having grown up in Bad Gastein and learning a lot their, it drew me into the big wide world. I visited many countries, spend a few years their, until I moved to next country. Here is a short list of countries I visited and where I settled for a while: USA, Croatia, Turkey, Netherlands, Thailand, Australia, South Africa, Maldives, and Egypt,...
As I always came back to Gastein during my travels, the time came, where I missed my home as a exceptional living area with unique possibilities in a special mountain landscape, that I got homesick and decided to turn my back on Gastein no longer, as being a special place. Instead I decided to settle down in Gastein and show my guests the insider tips and possibilities here. 
And from now on I will show my home in a video series from a side that has never been shown before. Topics will be mainly focus during the skiing season with the theme Freeride and in the summer with fly fishing in the Gastein valley. Cool stories with guests and special fly fishing friends and of course with special fishing trips to surrounding partner waters in Austria, Slovenia and Italy and soon also overseas...
Many thanks and Tight Lines your Mango Jerry!
Also, subscribe straightway the YouTube-Channel abonnieren and like the facebook !
I am really happy & hoping for a lot of support from you .... so diligently share / tell others / like / comments!
Ronny - Fly Fisherman Photographer and Creative mind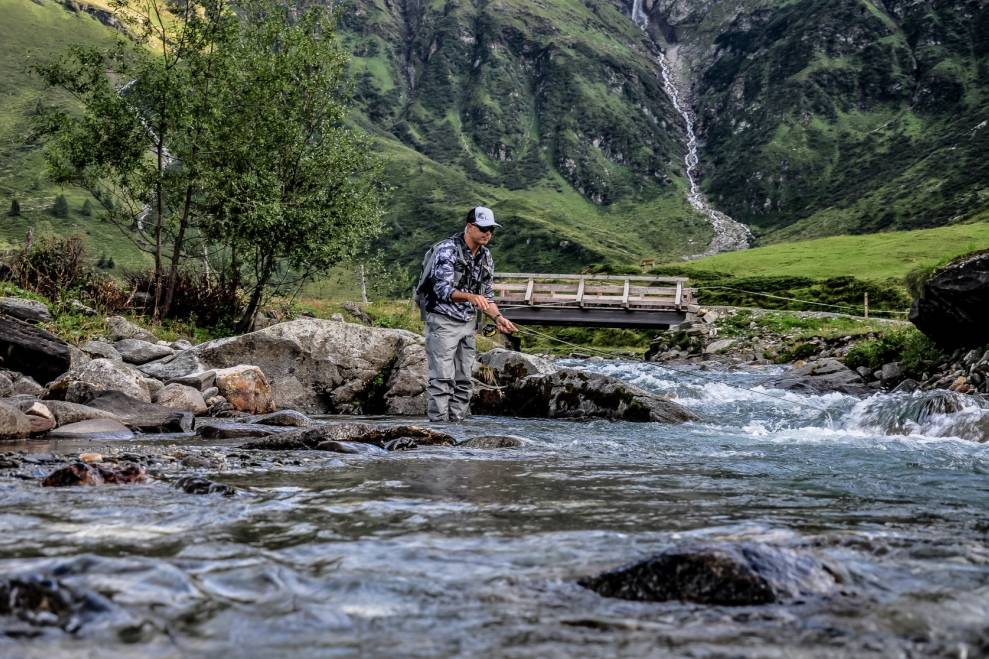 With Ronny at the water
His joy for Mother Nature and fly fishing of the finest is popular. As a manager and initiator of Mango Jerry Flyfishing, he has made it possible for many to discover the passion for fly fishing. With Ronny at the fish water is exciting and entertaining at the same time and best souvenir photos are guaranteed.
Ronny Katsch
Andy - Fly Fisherman with the finest etiquette
With Andy at the water
His precise presentation of the dry fly is just one of his strengths. A streamer or a nymph tied by him is not designed as bait for the fly tin, they always work. His passion for fly fishing and the handling of the river and fish were laid down in his cradle. With Andy you can go to the water in any weather.
Andy Reiter
Peter - Fly fishing the old savage and our Mentor